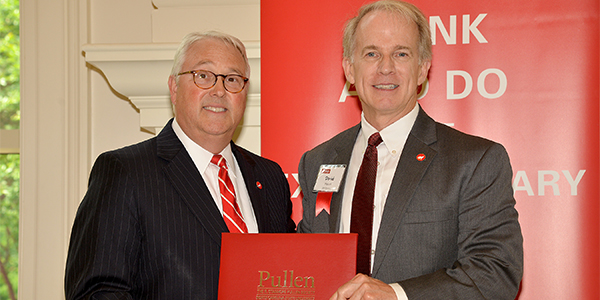 The R. Stanhope Pullen Society
The Pullen Society celebrates the philanthropy that has been an integral part of the university since its inception in 1887. R. Stanhope Pullen, a well known Raleigh philanthropist and businessman, donated the original 62 acres that served as the site for the new land-grant college to be known as the College of Agriculture and Mechanical Arts. From that first act of benevolence, North Carolina State University has grown into a university renowned for outstanding educational programs, innovations in science and technology and proud service to the 100 counties of North Carolina and beyond. The Pullen Society pays tribute to R. Stanhope Pullen while honoring the many alumni and friends of NC State who share his vision and commitment to a great university.
Established in 1993, the R. Stanhope Pullen Society was created to recognize and to thank the individuals who have invested in NC State's future through a planned gift. Pullen Society members are vital partners whose generosity sustains a legacy of giving that directly impacts NC State's ability to promote an integrated approach to problem solving that transforms lives and provides leadership for social, economic, and technological development across North Carolina and around the world.
Pullen Society Membership
Pullen Society membership is offered to individuals who make a deferred gift commitment in support of NC State or any of the university-related foundations. There is no minimum gift amount; however, written documentation of the gift is needed before membership is offered.
Once inducted, Pullen members have various opportunities to become more fully engaged with the university and like minded individuals. Members will receive invitations to special events on campus and to the Chancellors' Events held throughout the world. The GiftLegacy eNewsletter is designed to help you and your family with useful information. This bi-weekly electronic newsletter that includes the Personal Planner, Savvy Living, Washington News, and information on Finances is available on request.
There are numerous ways to make a deferred gift:
Bequest through a will or trust
A life income gift such as a charitable remainder trust or charitable gift annuity
Providing for NC State through a lead trust, private foundation, donor-advised fund, or supporting organization
Naming NC State as a beneficiary of an IRA or other retirement plan
Assignment of a life insurance policy
Through irrevocable planned gifts of $75,000 or more, individuals are eligible for membership in the university's prestigious Lifetime Giving Societies that recognize lifetime cumulative gifts.
Planning Your Legacy
Please consider joining with other alumni and friends of NC State by providing for the university through a future gift. You may designate your gift to assist students, faculty, research, programs, athletics, or any other area of your choosing. Our Gift Planning staff can outline the many benefits of deferred gifts, and demonstrate how you can have a lasting impact on NC State while meeting your own financial planning goals. Like R. Stanhope Pullen, you can create a legacy that will help to secure a promising future for NC State.
For more information, please contact the Office of Gift Planning by phone 919.515.5106 or email
[email protected]