A Love for Students – and Cats, Too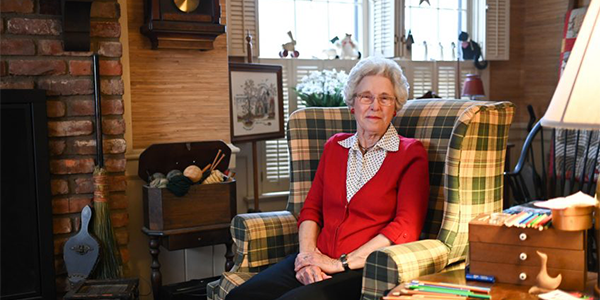 Sandy Thach spent her NC State career helping students achieve their academic dreams. In retirement, she's helping them even more.
Thach came to the college in 1983 as an administrative assistant for the associate vice chancellor of student affairs, helping selected students to receive prestigious scholarships from the NC Fellows and Caldwell Scholars programs (now consolidated as the Caldwell Fellows program). Around the same time she came to NC State, the NC State College of Veterinary Medicine had recently opened its doors. Then, as now, among the excellent students forming the first-year CVM class were some with significant financial need. Their stories made a lasting impression on Thach. They became special people to her.
That connection remains strong. Thach, who retired from NC State in 1998, has now established a CVM endowment of her own, the Sandy and Jerry Thach Endowed Scholarship in Veterinary Medicine. The $1 million endowment funds scholarships for veterinary students with financial needs, in the name of her late husband, Jerry, and herself.
Soon after her husband died in 2017, Thach made the decision to do something meaningful for the students who still come to NC State with boundless potential hindered by financial need. Her thoughts went back to that first class of CVM students she met 35 years ago.
Working closely with the North Carolina Veterinary Medical Foundation, Thach created a roadmap for helping veterinary students now and in the future.
In addition to the bequest of $1 million to create the scholarship fund, the plan includes an $80,000 cash gift to fund a full-ride scholarship for one student for four years or to fund four different students for one year each.
But that's not all.
Thach is a cat person, so when she learned that there is a need for an examination room exclusively for cats (the scent of dogs can often upset feline patients) in the NC State Veterinary Hospital's Terry Center, she pledged $50,000 to make the cat exam room a reality.
Finally, as someone who understands the power of the human-animal bond, Thach gave a $20,000 cash gift to the Companion Animal Pet Assistance Fund that helps pet owners with the cost of treatment at the NC State Veterinary Hospital.
With the details of her heartfelt philanthropy worked out, Thach can focus on her other high-energy pursuits, including weekly bowling, two seniors clubs and walking 4 to 5 miles a day. And she still is big Wolfpack football fan who was excited to watch the team compete in the 2018 Gator Bowl. "That's really something," she says.
We think you're really something, too, Sandy.