$4.5-million estate gift will fund multiple faculty-support endowments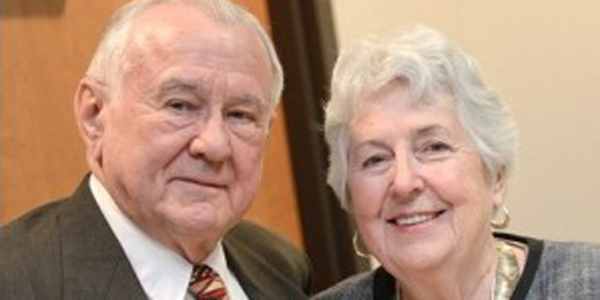 February 24, 2015

When NC State University Professor Emeritus Dr. George Kriz and his wife, Rhoda Kriz, both retired from the College of Agriculture and Life Sciences in 1999, they had already created the George J. and Rhoda W. Kriz Faculty Study Leave Endowment in the college. Now more than 15 years later, the Krizes are not only updating that endowment, but they are creating three more to support College of Agriculture and Life Sciences (CALS) faculty and their activities.
On February 20, 2015 at a signing ceremony and reception hosted by Dr. Steve Lommel, CALS associate dean for research, the couple endorsed four memoranda of understanding for a large estate gift of $4.5 million to establish permanent endowment funds. These will benefit CALS faculty and the N.C. Agricultural Research Service (NCARS) and will fund a distinguished professorship in the CALS Department of Biological and Agricultural Engineering (BAE), as well as several traditional agriculture distinguished professorships.
Addressing the more than 50 guests in attendance, including the Kriz family, Lommel said of the four endowments, "This is an important announcement for the college but particularly for research. George and Rhoda know where the university needs funding.
"We believe this commitment is the largest by former faculty and staff in the history of CALS."
The first agreement, between the Krizes and The N.C. Agricultural Foundation Inc., created the George J. and Rhoda W. Kriz Faculty Enrichment Endowment, to be used for faculty salary supplements and/or start-up equipment for new faculty members; it is intended to be a means to attract stellar faculty members. The second agreement, also with the foundation, for the George J. and Rhoda W. Kriz Faculty Study Leave Endowment, renews the prior such endowment to provide funds for study leaves for CALS faculty members to enhance their research effectiveness.
The third and fourth memoranda of understanding were between the Krizes and the Board of Trustees of the Endowment Fund of NC State University. These established the George J. and Rhoda W. Kriz Distinguished Professorship in Biological and Agricultural Engineering, as well as the creation of distinguished professorships, each called the George J. and Rhoda W. Kriz Distinguished Professorship, to be awarded to professors working within traditional agriculture departments. Such CALS departments include Agricultural and Extension Education; Agricultural and Resource Economics; Animal Science; BAE; Crop Science; Entomology; Food, Bioprocessing and Nutrition Sciences; Horticultural Science; Plant and Microbial Biology; Prestage Poultry Science; and Soil Science.
George Kriz retired as CALS' associate director of the NCARS, and Rhoda Kriz was program assistant in the college's Plant Disease and Insect Clinic in the Plant Pathology Department. George served from 1965 to 1973 in the BAE Department, where he was associate head of Extension, before moving into CALS administration. He started the animal waste program at NC State and facilitated field days at various research stations for numerous commodities and farming programs. He retired as the longest-serving associate director of agricultural research at a land-grant university.