Gift of Admiration, Awe, and Gratitude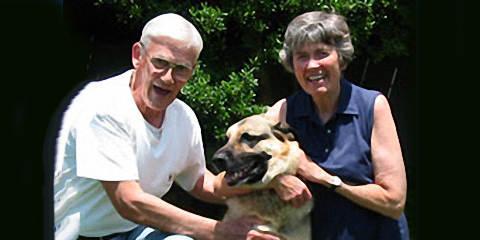 Creating an endowment was a natural progression for Charles and Barbara Wilcox of Alexander, NC. The Charles E. and Barbara H. Wilcox Scholarship Endowment allows this couple to tangibly express their gratitude for the care that the professionals of the NC State University College of Veterinary Medicine provide to the least and greatest of God's creatures.
"Our scholarship is the perfect way to reflect the value we place on the importance of including animals to enhance our lives," said Charles. Through the years, Charles and Barbara have shared their home with several pets that have given them hours of pleasure and companionship, including four delightful dachshunds (two of them paraplegic), two treasured mixed-breed dogs (rescued from dog pounds) and a feral cat with leukemia and lymphoma (found eating garbage from the garden compost heap). Their current canine chum, Elke, a magnificent purebred German Shepherd, was about to be taken by her owners to the local Humane Society when their adult daughter intervened by contacting her own veterinarian in north Asheville whose staff recommended the Wilcoxes as potential "parents." Elke visited, and it was love at first sight! Like their other beloved pets, she has captured their hearts with her keen intelligence, playful spirit, courage and unwavering devotion.
Charles and Barbara feel indebted to the wonderful, dedicated veterinarians who have ministered to their "canine kids" and "feline friends" over the years, seeing them through good times and bad, health and sickness, joyful hellos, and tearful good-byes. Vets have to be family practitioners, gynecologists, obstetricians, pediatricians, EENT doctors, dermatologists, cardiologists, pulmonologists, radiologists, oncologists, general and orthopedic surgeons, expert diagnosticians (as their patients can't tell them what is wrong!), dentists, dietitians, psychologists, and grief counselors. And for a multitude of species on top of it all. It is in admiration, awe and gratitude that the Wilcoxes chose to help veterinary students, who, in turn, will help so many other members of the animal kingdom and those who care for them.
They were also motivated to create their scholarship endowment because of the transformation that takes place when a student is afforded the opportunity to attend the college of his or her choice. "I learned early how vitally important financial aid is when one is working toward a college degree. My maternal grandfather, Edward J. Hutchins, helped pay for my education by periodically sending me a $100 check while I was attending the University of Connecticut. I held summer jobs, but there is no doubt I would not have been able to complete the demanding coursework required for an engineering degree if I had been forced to work for tuition payments and textbooks while attending school," said Charles.
Barbara added, "Also, it is great fun for us to receive notes from our scholarship recipients, sharing with us their dreams, goals and progress; and it is so gratifying to know that we played a small part in helping them to prepare for a career in veterinary medicine or veterinary science. Several have said that when they are able, they in turn, will carry on Grandpa Hutchins' tradition by helping other deserving students in financial need."
Charles and Barbara, originally from Connecticut, were married on December 17, 1960, during Christmas break from school. He was working on his degree in electrical engineering, and she was in nursing school. After retiring from successful careers, they headed south to Western North Carolina, where they are able to pursue their love of nature, gardening and animals in a more temperate four-season climate that allows them to be outdoors most of the year. Their home overlooks fertile fields of farmland in a rural community close to Asheville and offers an idyllic setting conducive to appreciating the beautiful mountain countryside.
To request free brochure
Ensuring Your Wishes: A Guide to Your Will
click here