An Easy Way to Give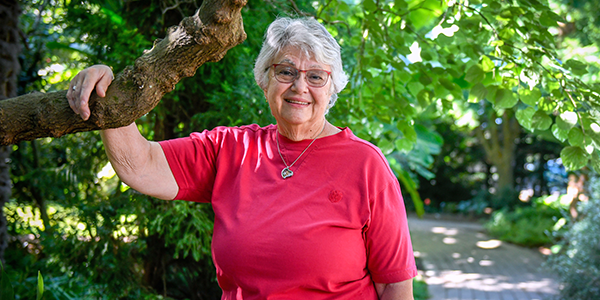 Edna Gaston's love for NC State runs deep. She has been a loyal supporter of the university over the years and recently designated gifts to Athletics, the College of Veterinary Medicine and the Extension Master Gardeners program through her will.
In the early 1990s, Edna Lovelace Gaston donned her Wolfpack t-shirt and walked out of her condo. A neighbor in her complex saw the trademark red and struck up a conversation that started that day and lasted for 27 years.
"Perry saw that t-shirt and he invited me to a basketball game," said Edna, an avid Wolfpack fan who soon realized she had met her husband in NC State alumnus Perry Gaston. "It was a marriage made in heaven. He had football tickets and a parking pass. I made the food and was the designated driver."
Over the years, their famous tailgate at Carter-Finley Stadium went from a small group of pre-game picnickers to a flat out bash featuring fresh seafood, an oyster roast and an incredible spread for friends who gathered from North Carolina and neighboring states.
"Perry had a generous heart and generous spirit, he bought tickets to accommodate everybody. At one point we had 20-25 people at every home game," said Edna. "Since Perry's passing, we've kept it up and still tailgate with super, super good friends."
Edna's love of NC State runs deep. She remembers fondly bonding with her dad during the NCAA men's basketball march to the championship in 1983 when she sent him a new NC State bumper sticker every time the Pack advanced. And over the years, the College of Veterinary Medicine came to her rescue several times, including when her beloved Persian cat developed diabetes and her rescue pug named Duchess developed an eye disease.
"I went to the Vet School library to read up on how to help my cat and a very nice vet student helped me by pulling research and talked with me about what he learned in classes," said Edna. "And their emergency clinic always had time to take my questions. So whenever a friend loses a pet, I send a contribution to the Vet School."
In addition, Edna has played a major role in the Extension Master Gardeners.
"I've been a master gardener for at least 25 years," said Edna. "I do a lot of the behind the scenes work now as active life is catching up with me. But it's so much fun meeting people with similar interests who have diverse ideas and creativity. We all have such different talents and abilities, and it takes a diverse group to make it successful."
Now, in honor of her dad, her husband, her pets and the Master Gardeners, Edna has designated NC State Athletics, the NC State College of Veterinary Medicine and the Extension Master Gardeners program to receive gifts through her estate.
"It was easy to set up. When I knew I was going to be able to do this, you can never imagine how much fun it was for me," said Edna. "I got such pleasure thinking about how each of these groups will have some funds they didn't have to struggle to get and they will be able to make an impact that will benefit others. That gave me such warmth, such pleasure just thinking that this is going to help people."
This February, Edna moved to Fuquay-Varina where she still gardens and her friends recently helped her put in a water feature she named "Perry's pond" along with raised beds packed with fruits, vegetables, herbs and big bloomers. Perhaps her favorite perk—it's only a 30 minute drive from Carter-Finley.