Leading by Example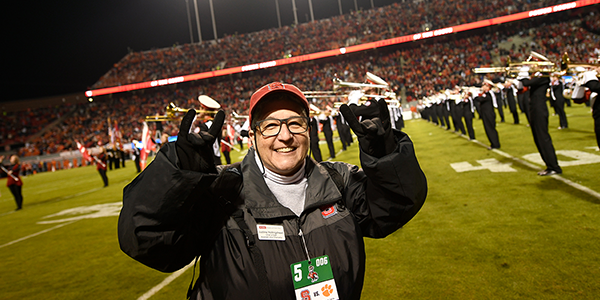 Justine Hollingshead, assistant vice chancellor for the Division of Academic and Student Affairs, and her wife, Debbie Dean, are bequesting $250,000 to the division and to the College of Veterinary Medicine on Day of Giving.
During her 26 years at NC State, Justine Hollingshead has always been looked to for her leadership and expertise in times of crisis. As an assistant vice chancellor in the Division of Academic and Student Affairs, she is counted on to lead the university's response whenever disaster strikes, whether it's a hurricane, incidents of prejudice against a marginalized group or even a pandemic.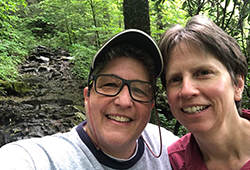 In both her personal and professional life, Hollingshead is a strong advocate for preparation and training. That's why she and her wife, Debbie Dean, chose to leave a bequest of $250,000 to NC State in conjunction with the 2021 Day of Giving. The gift will support the Division of Academic and Student Affairs, specifically for faculty and staff training and professional development. Another portion of their planned gift will go to NC State's College of Veterinary Medicine. The funds will assist clients at the NC State Veterinary Hospital pay for treatments for their pets when they might not otherwise have the means to do so.
"Employees don't always take advantage of the opportunity to be able to give back on campus and give back to NC State and its students," Hollingshead said. "For us, we're very fortunate and blessed in many ways that we are able to give back to what's important to us. I hope other faculty and staff consider giving back to the university too because it's not just a place you work — it's a place where you find your passions and help others find theirs as well."
"A Labor of Love"
When Hollingshead first started working at NC State as a residence life coordinator for University Housing, she didn't think she would stay long. As a member of the LGBTQ community, she did not find the campus community nor Raleigh particularly welcoming at the time. However, she embraced and rose up to the challenges, and thanks to a "labor of love," has helped bring about many positive improvements since then. One such improvement was establishing the university's GLBT Center, where she served as the first director.
"I've endured some of the most difficult things in my professional life here but have also been part of some amazing changes," Hollingshead said. "If you had asked me in 1995 if we would have a GLBT Center on campus, I would've said there's no way that's happening. To now see the resources we have on campus for students, in particular, is phenomenal, and I'm proud to have been part of making that happen."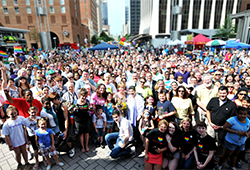 For the last seven years, Hollingshead has served in several leadership roles for the Division of Academic and Student Affairs. During that time, she has been part of countless budget discussions and had to make difficult decisions about allocating funding. One of the particularly challenging areas has been finding resources for professional development for employees in the division.
"As faculty and staff, we're expected to be knowledgeable and on the cutting edge of what's going on in higher education and how we deliver content and provide support," Hollingshead said. "It's difficult to do that sometimes when you don't have the resources or if there's no money in the budget, so I'm hoping this gift will make a difference and provide more training opportunities for our division's hardworking faculty and staff."
The need for training, especially in disaster response, has been especially evident in the last year during the COVID-19 pandemic. When students moved off campus in March 2020, Hollingshead worked to organize and train volunteers for the Wolfpack Response Line, which she helped create in 2017 in Hurricane Matthew's aftermath. She has also been instrumental in helping to organize and train volunteers for NC State's COVID-19 testing and surveillance programs this spring, in addition to partnering with University Housing in the facilitation of quarantine and isolation housing.
Hollingshead has been impressed by her colleagues' caring nature and resilience during the pandemic and their response to the racial strife across the nation last summer following the murder of George Floyd.
"The university's response to get through the pandemic has been incredible, and much of that has been led by the Division of Academic and Student Affairs," Hollingshead said. "We have great employees, and they step up when I put out a call for volunteers. People sign up and help, whether it's staffing the food pantry, helping with COVID testing, helping with move-in, assembling kits to give to students, or even directing traffic. Our people stand up above and beyond their normal roles, and I am incredibly grateful and proud of that."
For the Love of Animals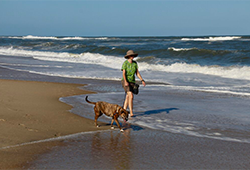 Shortly after Hollingshead started working at NC State, she and her wife Debbie began dating. One of the things they have bonded over for the entirety of their relationship is a love for animals. Over the years, many cats and dogs have been beloved members of their family. They currently own a cat, Minnie Mouse, and a dog, Hollyfox. In the last year, they also enjoyed the companionship of an 800 lb. female pig named Willie, who belonged to a neighbor near the property they call "Camp Petree" in Siler City, N.C.
Veterinarians hold a special place in Hollingshead's heart as well, especially those she bonded with as undergraduates at NC State. She and Debbie's pets have been patients at NC State's Veterinary Hospital multiple times in the past, and their gift is a way of showing thanks for the outstanding care both they and their pets have received.
"It's amazing to watch veterinarians work, and sometimes I feel like they have even more compassion than human doctors," Hollingshead said. "They care so much for people's animals, but they also have to care for people because people, like Debbie and I, bring our pets there and receive great care and compassion as well."
Being a Champion for Employee Giving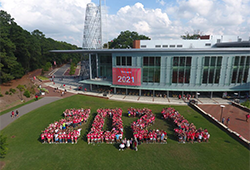 Reflecting on her 26 years with the Wolfpack, Hollingshead feels that she has formed an extended family and her experiences at the university have shaped her into the person she is today. She hopes that her gift will inspire other university employees who have been positively impacted by their work there to give back as well.
"It's not just a job to me — it's a place where I'm a part of something bigger," Hollingshead said. "The community and the leadership here are just remarkable, and it gives me a sense of comfort that I'm at a place where I can give back. We ask students and alumni to give back because they were positively impacted by their experiences here, so it should stand to reason that employees should also be asked to give if they've been positively impacted."
"We are incredibly grateful to Justine and Debbie for their investment in NC State's future, and we are so glad they are part of the Wolfpack family," said Chancellor Randy Woodson. "I am also thankful for Justine's leadership as she has helped guide the university through both good and difficult times. She is an exemplary member of our community, and is truly leading by example with this gift to the Division of Academic and Student Affairs and the College of Veterinary Medicine."