William O'Brien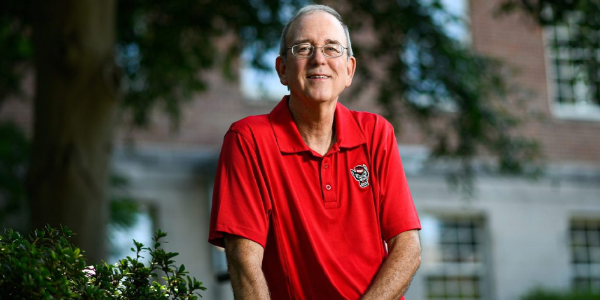 NC State alumnus William O'Brien ('81) has enjoyed a long connection with the university's Caldwell Fellows.
Years ago, when the program teamed together faculty members and graduates of the university to interview applicants, he was an enthusiastic participant.
The interviews usually lasted a full day, and O'Brien recalls relishing both the time with faculty and with prospective members of the Wolfpack. At the time, the Caldwell scholarships were awarded to incoming freshmen.
"I really enjoyed that experience working with a current faculty member – each of us would ask our questions based on our own experiences," O'Brien said. "And then, just being able to talk to these students that wanted to come to NC State; we were interviewing them but also telling them why we wanted them to come to the university.
"Talking to these [high school] seniors, hearing their stories and why they wanted to go to NC State and what they were interested in, it was a great way to stay connected with the university."
The application and selection process for Caldwell Fellows has changed since then, with students entering the program following their first year on campus, but O'Brien never lost touch with the program or the university.
"Every now and then I love to go over, get some Howling Cow ice cream, and walk around campus," he said.
He continues to support the Caldwell Fellows as well, just in a different way. Through planned and current gifts to the university, O'Brien has established the William J. O'Brien Jr. Caldwell Fellows Endowment. He saw his giving as an opportunity both to support students directly and to be a part of keeping NC State competitive as students consider their options compared to other state universities.
"Back when all of this started, the Park Scholarship didn't exist yet, but State had started the Caldwell program," O'Brien said. "I thought it was good to have something similar to the Morehead program at Carolina.
"I had a number of friends over time that were Morehead Scholars, and I saw what a good program it was for those folks. It was something NC State needed and I wanted to be a part of making that happen."
As one way to bolster his endowment, O'Brien made a gift as a deferred charitable gift annuity, a planned giving option offered at NC State and many universities. Charitable gift annuities allow the donor to make a donation that is set aside and invested. The donor continues to receive a fixed payout from that investment for the rest of his or her life, with the university receiving the remainder of the gift at the end of the donor's life.
"It allows me to have income in my retirement, but it also allowed me to make the gift while I was still working," he said. "It's a dual investment toward NC State and toward my retirement income."
O'Brien enjoyed a successful career following his years at NC State. Some of his fondest memories as a student include playing in the marching band one season when the Wolfpack football team went to the Tangerine Bowl near Disney World and one summer when he and some friends helped oversee the residence halls for summer basketball camps.
He graduated with a degree in engineering operations, which has since been phased out, but combined engineering and business knowledge for people in a technical field who thought they might end up in management.
"I really enjoyed my academic experience there," he said. "I took engineering classes and business classes and found when I started working, it all fit together."
Now retired, O'Brien worked for Siemens for 38 years, 17 of which were spent on the engineering side before he moved into information technology. He has recently become a grandfather for the first time, something that brings him great joy. Even though his granddaughter doesn't live locally, they talk and see each other regularly through technology.
He's also an avid tuba player, playing with the Raleigh Moravian Band and with a Raleigh neighborhood band, the Historical Oakwood Second Line Band. The Oakwood Second Line Band is like those that perform at Mardi Gras in New Orleans, and the group often plays events from city parades to the Historic Oakwood's Mardi Gras celebration.
O'Brien has supported NC State in other ways since just a few years after his graduation. A friend with ties to the Alumni Association first encouraged him to make matching gifts, through which an individual's employer matches his or her donation to the university.
He hopes his support can help other students attend and thrive at NC State and find success after graduation, like he did.
"I like to think that there are students out there that, without some of these scholarships, they wouldn't necessarily be able to go to college," he said. "I think that there are students who are going to excel in the world that might not have otherwise, if not for the various people that stepped up to support these scholarships."
Just as a friend encouraged O'Brien to support the university early on, he now encourages others to do the same.
"If you went to NC State, it's a state school, and you probably got a really good deal compared to going to a private school," he said. "You should feel obligated to give back, to do your share and to help someone else."