Bequest Will Enhance Leadership Skills of Students in Generations to Come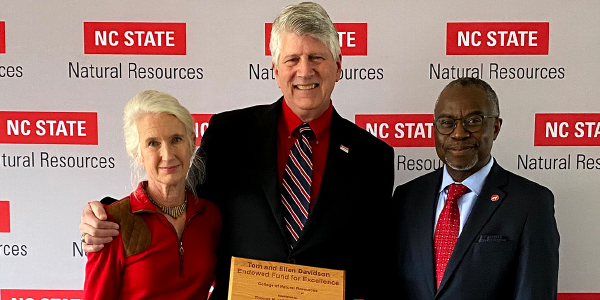 Tom and Ellen Davidson with Dean Myron Floyd, College of Natural Resources.

Tom and Ellen Davidson, longtime friends of the Collage of Natural Resources, have included the college in their estate plans to benefit future generations of students. Their legacy gift when realized will support students in building leadership and communication skills before they enter the workforce.
When asked what legacy he wants to leave, Tom said: "It was an impactful question and it wasn't hard to answer when it came down to it." He wants students in natural resources fields to graduate with not only necessary technical skills but also the people skills they need to truly succeed — communication, teamwork, leadership.
Tom said undergraduate students don't have "time for group development or diversity training. There wasn't formal time for learning team building, delegation or communication skills." The Davidson's estate gift (a gift through their will) will enable students to gain these skills from industry professionals through experiential learning, guest speakers and attending special classes.
To help more NC State graduates stand out in the workforce, Tom hopes others will be inspired to support their education. "If others read this or see this, I hope it encourages them to think about the time they're at in their life and if they haven't considered a gift to this school, then now is the time to consider that," he said.
Tom graduated from NC State's College of Natural Resources in 1978 with a degree in forestry. After graduation, he had several jobs within the industry and found that he most enjoyed working with people.
When his supervisors assigned people-oriented tasks, Tom was thankful for the opportunity, as were his fellow foresters who would rather not interact with the public. "During my professional journey through forestry and many technical jobs, I learned along the way that I was really more passionate about and interested in people," Tom said. "How people work together, leadership, teamwork, communication. Those things that many folks in natural resources aren't necessarily gravitating toward."
In 1999, Tom founded Leadership Nature, a company focused on improving communication, teamwork and leadership within technical and natural resources organizations. Each day presents new challenges where he could be managing leadership training, coaching executives or assisting organizations moving through great change. His skills as a forester come in handy every day. Forestry "teaches you to think in a system and also long term," he said. "That thinking then helps executives think in terms of systems and long term."
He realized that many technical jobs like forestry require communication and leadership skills, but employees are not adequately trained in these areas. For instance, in the forestry program, students learn the science and data measurement skills required by their profession. But once they become a forester, employers will require they manage the land as a team, communicate to the public through outreach and present their findings together. Tom saw this pattern and decided to change it. He hopes his gift will accelerate students' leadership skills earlier.
Tom credits his success to his wife, Ellen. From the beginning of their relationship, Ellen did everything she could to support Tom's career, even providing baked goods. While Tom was at Summer Camp in Hill Forest, Ellen came every Friday to deliver homemade cheesecake. "She was like an apparition with this gift for me that, of course, I would have to share with dozens of other people," Tom said. After they both graduated, they moved several times for Tom's career. "She sacrificed a lot for my career, which is our career, as any team would be," he said. Tom and Ellen recently celebrated 43 years of marriage, a "COVID anniversary," as he called it, with take out and locally baked cake.
Additionally, he gives credit to the close-knit and family-like community in natural resources fields. Tom likened the support and encouragement he has received from fellow industry professionals to the experience of living in a small town. "As small towns go, people know each other. They care about each other. It's a privilege to serve our small town, the College of Natural Resources community."