Charitable Gift Annuity Will Make It Possible for Future Engineers to See What's Possible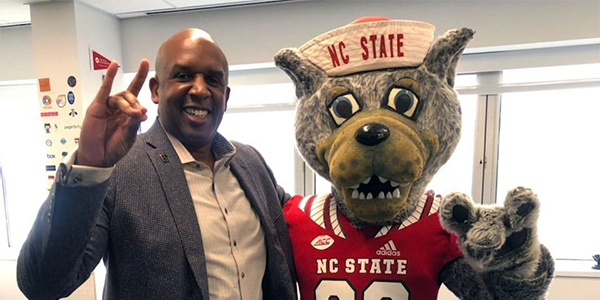 The shirt is Wolfpack red, emblazoned with white letters: This is what an engineer looks like. And when Timothy Humphrey '96 saw it while visiting NC State, he knew it was something he would wear proudly.
"One of my favorite lines is, 'You can't be what you can't see,'" said Humphrey, who serves as vice president of the IBM Chief Data Office and IBM's senior state executive in North Carolina. "If you don't have an example around you, you can't aspire to be. And engineering is for everybody."
The shirt is one way Humphrey demonstrates his commitment to increasing inclusivity in engineering at NC State. His philanthropy is another. In 2019, he created the Timothy L. Humphrey Women and Minority Engineering Initiatives Award endowment. Now, with a new planned gift, the award will make an even greater impact.
Recently, Humphrey and his wife, Kimberly, decided to create a charitable gift annuity (CGA) to grow the endowment. He first learned about CGAs from a mentor who had created one with her own alma mater, and he reached out to staff at NC State to see if such a thing was part of the university's planned giving options.
CGAs are a type of planned gift through which donors transfer stock or cash. The funds are then invested, and donors receive a fixed payment for the remainder of their lives, after which the beneficiary, in this case NC State, receives the remaining balance of the invested funds.
Humphrey had known he could make gifts of appreciated stock, and he was pleased to find out that CGAs could be funded similarly. He encourages others who are thinking about their futures to consider CGAs a vehicle for generating income and making a difference.
"Normally when you're investing in your future, it's stocks or mutual funds or property. To be able to generate some future income and support a cause you care about - for me, that's a home run," he said.
Deciding to strengthen his endowment at the College of Engineering with the CGA was also an easy decision. His own experiences as a student who didn't see engineering as a path until he was guided to it, as well as the successful career NC State empowered him to launch, led to a desire to create more opportunities for future engineers who are underrepresented in the field.
Women and Minority Engineering Programs (WMEP), which the endowment supports, is important to Humphrey because of both the important work the programs undertake and co-directors, Laura Bottomley and Angelitha Daniel.
"Every time I meet with these two, they are a force. There's giving to causes and there's giving because of people who support causes, and in this case, it's both," Humphrey said. "They've committed not just their careers but their lives to helping others, and every time I'm around them, I think, 'What can I be doing?' They're such an inspiration."
Bottomley and Daniel are also the ones who introduced Humphrey to his new favorite shirt as they seek to build community and engagement needed to create an inclusive environment - and remind students that engineering careers are for everyone.
"I don't know two more selfless people, and the fact they're dedicated to this cause makes me want to support the cause and also support them," Humphrey said.
Through summer programs, recruitment weekends, workshops and roundtables, WMEP assists in recruiting, retaining and mentoring students traditionally underrepresented at the College of Engineering. Bottomley and Davis lead the program in not only supporting students through a rigorous curriculum but also in meeting their basic needs through efforts such as creation of the Women and Minority Engineering Programs Resource Bank.
Humphrey notes that Bottomley and Daniel represent the type of leaders he has tended to gravitate toward — those who are focused on "we," who go the extra mile and enable good outcomes for others.
It comes as no surprise that these are qualities clear in Humphrey himself and in the relationship he has built with NC State. For the first half of his career, he worked hard, whatever hours were needed, and made the most out of his time outside of the office. But a moment of reflecting on the people who helped him along the way prompted an important question: What was he doing to give back to others?
He got involved with causes that were meaningful — the Boys & Girls Club, healthcare and education — and eventually joined nonprofit boards and other community leadership activities. His hands-on work with the Boys & Girls Club has been especially rewarding, and he has become a devoted mentor to youth, students and other professionals.
Humphrey has regularly brought that energy to the College of Engineering by serving as a speaker and engaging with students on panels. His passion for and commitment to NC State led to an invitation to join the Board of Trustees in 2020.
"When I was approached and asked to serve, I was honored," Humphrey said. "It was an opportunity for me to give back not through my philanthropy but through my time. I thought back to the 17-year-old kid who stepped foot on this campus back in 1991, and it felt surreal to be able to say I could be part of the body of minds that helps to govern and ensure we're continuously producing great talent.
"I care about students, and I care about the next generation making technology to make the world a better place."
This is what drives Humphrey's generosity and what he thinks when he looks out at the sea of new graduates during commencement — young people who are prepared for bigger, bolder futures. And it's what comes to mind when Humphrey considers the legacy he hopes to leave at his alma mater through his service, endowments and planned gifts.
"I hope people look back and say, 'He was passionate, he was fair and he was giving,'" he said. "Outside of that, I hope that what I did reaches those students and that they have a better life because of it. I don't want the recognition — I want the outcomes."
The outcomes he's helping create are numerous. There's his love of mentoring. There's guiding students toward higher education, which he views as a path to prosperity that can impact generations, particularly for those from economically disadvantaged backgrounds. There's helping grow WMEP and expanded pathways for future engineers. And there's demonstrating that there are no limits on who can be an engineer.
"What a great story," Humphrey said. "To come full circle from the kid who didn't really understand or know what engineering was, to now be an engineer with a good, successful career and hopefully inspire other students."
"You can't be what you can't see." With Timothy Humphrey's recent planned gift to support WMEP's work, more future engineers will be able to see what's possible.