An Estate Gift that Gives Students Hope and Options with No Strings Attached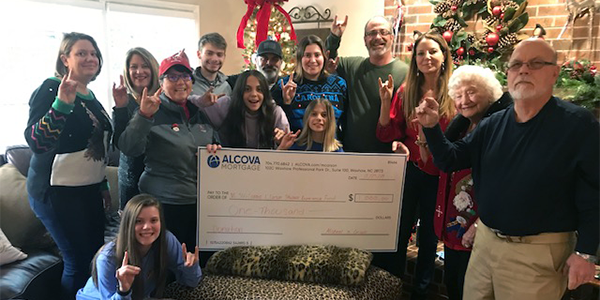 Connie (second row, far left) and her family members.
When Connie Carson arrived on campus as a freshman, she planned to major in biological sciences and obtain a second degree in science education with the hope of becoming a veterinarian. While she enjoyed her coursework, she decided that she would rather have animals as pets - not patients. She obtained her undergraduate and master's degrees from NC State's College of Education. Her degrees and her student experiences at NC State put her on a path for a successful career in higher education with a focus on student life serving in leadership roles at Wake Forest University and Furman University.
"I had a great experience at NC State that became a great career," Connie explains. "I found my purpose and learned how to function and be happy in the world. I credit my mentors at NC State for what they saw in me and how they pushed me. Bottom line is, I wouldn't be where I am without NC State."
A few years ago, Connie decided to update her estate plans. She asked herself, "How can I best show hope and love to others?" Her family encouraged her to dedicate part of her estate to NC State to do just that. Connie has included provisions in her estate plan to establish the Connie L. Carson Student Experience Fund, which will award monies for students wishing to participate in high-impact programs outside of the classroom who may lack the resources to do so on their own. An additional gift from her estate will support the Wolfpack Club's Student-Athlete Engagement and Leadership Fund, which provides leadership opportunities for student athletes.
"NC State has always been a home to me," Connie says. Yet she stresses that her student success was not a guarantee. Though she was well prepared academically by having attended a strong high school, Connie was a first-generation college student. Since she did not have family members who had gone through college, Connie was in many ways on her own at NC State. She succeeded because of her engagement with student affairs programs, especially University Housing. Connie was assigned to live in Metcalf Hall for her first year and had a wonderful experience thanks to the upperclass student advisors and resident advisors she met and befriended. At the same time, Connie became involved in intramural sports, which introduced her to another side of the campus community. Connie discovered her place within the NC State community, and she thrived
When asked why she chose to devote her estate to establishing the Connie L. Carson Student Experience Fund and supporting the Wolfpack Club's Student-Athlete Engagement and Leadership Fund, Connie draws from her personal experience as a first-generation college student and her deep understanding of student success. She recognizes that when she was a student, college was more affordable. Connie empathizes with the first-generation college students of today, who are struggling with tuition obligations while seeking to understand a world that their families did not experience themselves. Finding community and discovering belonging are essential, she asserts, to making student success possible. Connie also emphasizes the importance of having diverse experiences on campus, in the broader community, in the business world, and abroad. When students identify their strengths and their paths earlier, they are more likely to persist and graduate. Connie's fund will grant awards directly to students who need to ease their financial burden in order to grab hold of the high-impact experiences that will shape their lives. Connie imagines how, with an award from her fund, students will be able to take part in a leadership program or participate in Alternative Service Breaks just like their peers.
Her support will, in Connie's words, "give them hope and give them options, with no strings attached."