Estate Gift Supports Coastal Research Opportunities for Undergraduates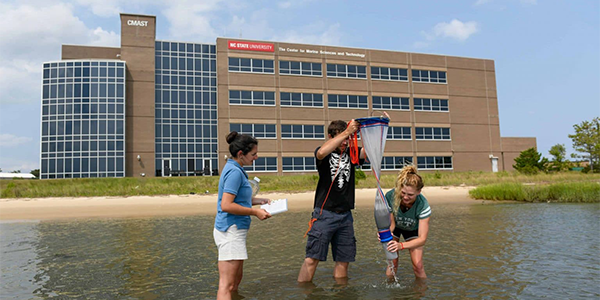 A gift from a friend of the College of Sciences will provide valuable support for students at the university's Center for Marine Sciences and Technology.
The college recently received the $366,000 gift from the estate of Bob Simpson to establish the Bob Simpson Fund. The fund will support students and faculty in the college who are studying or conducting research in marine sciences and coastal natural resources at CMAST.
"Bob was a tireless advocate for the state's coastal regions and for the outdoors in general, and he recognized the important contributions of the research, extension and academic programs at CMAST," said David Eggleston, professor of marine science and director of CMAST.
"He decided that his gift would be a way to help inspire those who may help us better understand how to balance natural beauty and economic success in coastal areas."
CMAST will use Simpson's gift to establish the Bob Simpson Scholars Program at CMAST, beginning summer 2020, which will support undergraduate students based at CMAST during a 10-week period each summer.
Simpson was a military veteran and a longtime resident of North Carolina's Crystal Coast region. In the 1960s, he was executive director of the North Carolina Wildlife Federation, where he worked to preserve the Cape Lookout National Seashore. He also wrote nature columns and editorials for The News and Observer for more than 50 years and co-authored two books about outdoor adventures with his wife, Mary. In 2006, he was inducted into the Order of the Long Leaf Pine, North Carolina's highest civilian honor.
"The research experiences that students will gain through the Bob Simpson Scholars Program at CMAST can transform students' conception of what science is and be game-changers in their education," Eggleston said. "The undergraduate students also bring an enthusiasm, energy and curiosity that energizes our faculty, staff and graduate students."