Being a Caldwell Fellow Changed My Life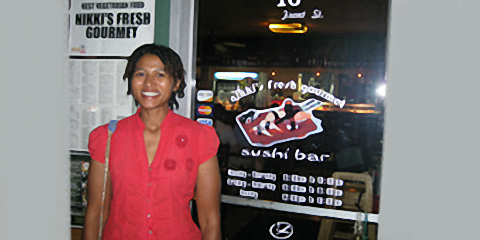 Caldwell Fellow Bianca Bradford Howard '99 learned from her parents at a young age that she could make a difference. She became interested in the environment in the seventh grade but never dreamed she would have a career that would allow her to pursue those interests in a meaningful way. Through her position as a community education specialist with the Solid Waste Services Department for the City of Raleigh, she encourages greater adoption of recycling in Wake County through her outreach to individuals, schools and organizations thereby reducing the material destined for expensive landfills.
Bianca credits her NC State education for allowing her to pursue a career in a field she loves. Being selected for the rigorous Caldwell Fellows program afforded Bianca the opportunity to develop service-based leadership, and the Raleigh community is now benefitting from her talents. Caldwell Fellows receive a financial award that includes three years of tuition stipend, as well as annual enrichment stipends for experiences in cross-cultural immersion and service, global leadership development, professional and self-development, and social entrepreneurship.
"The Caldwell Fellows program inspired me to excellence, plus it allowed me to graduate without any debt. My parents, both graduates of NC Central University, were more comfortable knowing I was attending NC State as part of a group of high achieving students with a talent for creative problem solving and leadership," she said.
Bianca and her husband, James '98, are proud members of the Wolfpack family, and they financially support various programs at NC State through their annual gifts. In fact, their philanthropy started before they graduated.
"Pat Lee, who was working with the Caldwell Fellows program when I was still in high school, took a personal interest in me and helped me decide that NC State should be my school of choice. Being a part of the Caldwell Fellows program changed my life. I enjoyed the dinner seminars where former Caldwell Fellows spoke, as I was able to learn from their experiences. Their talks answered the question of what students do after graduating from the Caldwell program. I feel it is an honor to be a part of NC State University, and I want to make sure that programs like ARTS NC State thrive, and the Caldwell Fellows will continue to make a difference for generations of students like me."
For information on how you can make a difference by creating your own Caldwell Fellows endowment, contact Alan Taylor the Director of Development for the Caldwell Fellows at 919-515-6110.