Planned Gift Will Provide Transformational Support to Military-Connected Students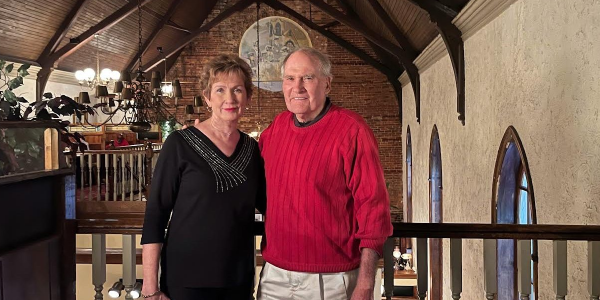 A transformational planned gift from Jerry '67 and Pat Collier will significantly grow scholarships for military-connected students at NC State University's College of Engineering. The gift, documented in 2022, represents the largest commitment to support the military community in university history, as well as the largest gift from an alumnus of the Department of Civil, Construction and Environmental Engineering.
"We are so grateful for Jerry and Pat Collier's vision for how NC State can deepen its commitment to military-affiliated students," said Chancellor Randy Woodson. "They are creating an extraordinary legacy through this gift. By honoring those who have served, the Colliers will help to strengthen our ties to the military community while transforming the lives of students and their families. Jerry and Pat have set a remarkable example — one that will inspire so many."
The new endowment, to be administered by the Division of Academic and Student Affairs (DASA), will be funded by a bequest and, when fully realized, will provide scholarship support for up to 100 undergraduate and graduate students each year. The largest gift to DASA, it builds on NC State's reputation as a military-friendly campus. In 2022, the university earned a top-10 spot in Military Friendly's national Military Friendly Schools rankings, rising three spots to sixth place.
"Student success is at the heart of everything we do," said Doneka Scott, the vice chancellor and dean of the Division of Academic and Student Affairs. "Every student takes a different path to NC State, and this is especially true of our military-affiliated students, whether they come to us after serving in combat or as the dependents of servicemembers. We are all deeply grateful to Jerry and Pat Collier for their incredibly generous support, which will not only ease financial burden, but also demonstrate how invested NC State is in our military-affiliated students' experiences and success."
The Colliers' support reflects their commitment to education, their own connections to the military and the lifelong relationships they have maintained at NC State.
Befitting his background as an engineer, Jerry Collier sums up the inspiration for his 50-plus years of involvement in four succinct words: "Because I'm a Wolfpacker."
Jerry Collier grew up in Johnston County, where his parents farmed, and later moved to Norfolk, Virginia, for his father's construction career. He chose to return to North Carolina and attend NC State to further his education in the field and major in civil engineering. After graduation in 1967, he worked at Texaco Oil Company and then entered Officer Candidate School. Collier served in the U.S. Navy for four years and was awarded the Bronze Star for his service in combat in Vietnam with the Navy Seabees. He later returned to Norfolk and established a successful building company.
Pat Collier, who grew up in a Navy family, completed her undergraduate degree at Old Dominion University and her graduate studies at the University of Georgia. She worked as an educator for several years before transitioning to a career as a school social worker, which she continued until retirement.
"Soon after I started my building business, I received an invitation to an alumni meeting in the Tidewater, Virginia, area. I enjoyed the people I met there," Jerry Collier said. He worked with his fellow local alumni on raising funds to bring radio broadcasts of NC State football and basketball games to the area.
"That was really the impetus that made me realize I enjoyed helping the university and the Tidewater Club. It made me want to become more involved with NC State."
The two have stayed connected to NC State through their fellow Tidewater-area alumni, following Wolfpack athletics, reunion events with Jerry Collier's Lambda Chi Alpha fraternity brothers and Jerry's board service with the Alumni Association and the Graduate School.
The Colliers have also deepened their relationship with the university through philanthropy, providing generous support to student-athletes , the Graduate School, the Alumni Association and the College of Engineering, including the the Department of Civil, Construction and Environmental Engineering. They have already made a life-changing difference for numerous students through an existing scholarship.
The Colliers' planned gift follows the state's recent expansion into engineering education at NC State, known as Engineering North Carolina's Future . The initiative will help the state respond to the expansion of STEM-focused industries in North Carolina by adding 4,000 additional engineering and computer science students to meet job market demands while growing the university's economic impact on the state.
"Commitments like these from Jerry and Pat Collier represent extraordinary investments in our future," said Louis Martin-Vega, dean of the College of Engineering. "The focus on engineering students will impact a significant number of our future applicants.
"We have been fortunate to benefit from partnerships with both the state, through the Engineering North Carolina's Future expansion effort, and with our dedicated supporters. One of the things I appreciate most — and which makes us so proud as a college — is when engineering alumni and their families choose to invest in the next generation of engineers. The Colliers' gift is an incredible vote of confidence in our future and will help us expand access to an engineering education to a population whose unique experiences and perspectives will only enhance the profession."
Officer candidate Ethan Watson '24 currently receives a scholarship from the Colliers as he pursues a degree in civil engineering. "I have been extremely grateful for the generous scholarship that the Colliers have provided me. It has given stability in my home for a few semesters now, [granting] peace of mind financially at a level that could not have been reached without their generous donation," he said.
"I have been able to more effectively focus on the true purpose of receiving these types of financial aid: my academics. It has done much to motivate me to reach my goals educationally. I will be forever grateful for the care and support provided by the Colliers through their scholarship program."
Watson's experience demonstrates how far-reaching the Colliers' new commitment will be, benefiting not only the recipients but their families.
"It is our hope that our gifts to NC State will be our legacy," Jerry Collier said. "It gives us great pleasure that many students will enhance their lives with these scholarships. We are particularly proud to support those involved with the military, whether as an active member, a veteran or a child of either.
"Military families endure long separations and experience frequent moves. Those who are willing to preserve America's freedom deserve special treatment. We hope our message to military families is that NC State values them as well."