Her Dog Changed Lives. Now it's Mary Jo Pringle's Turn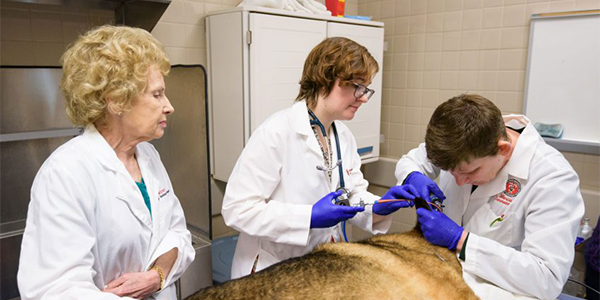 With a soft nuzzle or a simple trick, Blarney could effortlessly do what many cannot — make life just a little bit better.
For eight years, Mary Jo Pringle would bring her dog — a golden retriever named after the Blarney Stone in Ireland — to nursing homes and senior day care centers. He'd visit people at hospitals with Alzheimer's disease young children at schools. Blarney's loving nature was clear when Pringle brought him home. A year later, he was a certified therapy dog.
He always made an impact on those he visited. A nursing home resident became so attached to Blarney that she put his picture on a bulletin board in her room and kept a small stuffed golden retriever toy she named Blarney Jr. Wherever he went, Blarney brought love.
"Blarney brought smiles to sad faces, love to those who felt forgotten and was a gentle distraction to those who endured physical pain," said Pringle. "In 2004 he was inducted into the North Carolina Veterinary Hall of Fame with more recommendations than any dog before him."
When Blarney died of cancer in 2010 he left behind another legacy: Pringle's own dedication to service. She has become a major donor to the NC State College of Veterinary Medicine, establishing a pair of planned gifts that will endow two major initiatives at the college: $2.5 million for the Mary Jo Pringle Golden Retriever Canine Health Research Endowment Fund and $2.5 million to the Mary Jo Pringle Endowed Chair in Comparative Pain Research.
"So many dogs made a difference in my life," said Pringle, a member of the North Carolina Veterinary Medical Foundation board of directors. "Together we accomplished things I could not have done alone. I could not accept that my lifelong care of my dear friends would not extend into the future."
Pringle's special relationship with animals began as an only child growing up in Augusta, GA. She was homeschooled and had little contact with other children. Her parents always had one or more small dogs, pugs, dachshunds and others. She learned to ride horses when she was 3. The animals were her constant playmates, her friends.
"It was lonely by some standards, but my animals filled the void," said Pringle. "I developed the deep understanding and love for them that has always attended my life."
Through college and into adulthood, a love of animals remained a fixture in Pringle's life. As soon as she graduated and got a job, she adopted her first German shepherd. Many more adoptions followed.
Her first direct connection with the CVM came when one her German shepherds, Charlie, had a severe back injury and could not sit up. The skilled care he received at NC State restored his ability to walk.
At the time, she volunteered with animal rescue organizations and began to consider the opportunity to make an even bigger impact through the CVM. She joined the North Carolina Veterinary Medical Foundation and supported individual initiatives with periodic donations to the CVM since the late 1990s. Then, after a meeting with Kate Meurs, the CVM's associate dean for research and graduate studies, Pringle turned her attention to the enduring power of the college's cutting-edge research programs.
Inspired by her years with Blarney, the Golden Retriever Canine Health Research Endowment Fund supports the study of the hereditary and environmental causes of canine cancer with a goal of not just improving treatment but finding a cure. The fund stipulates that no research animals, particularly dogs or cats, are to be sacrificed in the research studies supported by this endowment.
The second bequest bolsters the college's comparative pain research program. Duncan Lascelles, professor of small animal surgery and pain management who heads the program, is internationally recognized for his groundbreaking research in the measurement and management of pain in cats and dogs.
"My interactions with the brilliant clinicians and researchers combined with the dedication of my fellow board members all assure me that I have chosen well," said Pringle.
Her support doesn't end there. With the guidance of the college's Associate Dean of Veterinary Medical Services Steve Marks and Associate Dean of Advancement Dianne Dunning, Pringle recently funded the major purchase of two important pieces of diagnostic equipment for the NC State Veterinary Hospital, a bronchoscope and a video otoscope. The flexible bronchoscope allows clinicians to examine the inside of the trachea and lower airways. The video otoscope enables more effective diagnosis and treatment of ear conditions, including the use of a video camera to transmit images to a larger screen for magnification. As the owner of many floppy eared dogs over the years, Pringle understands the importance of ear health and diagnostics.
Both acquisitions provide clinicians with the type of advanced equipment that keeps NC State on the cutting edge of veterinary medical care.
"If someone is able to bring home a healthy pet 10 years from now that would have died today," said Pringle, "I have done my job."